Again in 2019, the committee of NMRA Hall of Fame voters chose several inductees for our prestigious Hall of Fame. Two of the newly-elected inductees had their ceremonies at the July NMRA tournament banquet in Chicago. They were: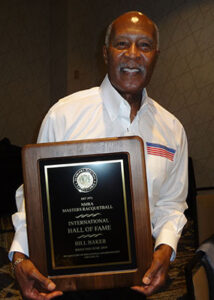 Bill Baker of Rancho Palos Verdes, California. Bill is currently on the NMRA Board of Directors and has many medals that made him eligible for induction. Bill's wife, Pearl, created an amazing video of slides and video of Bill's work career and his racquetball career. Congratulations to Bill, and Pearl for her great video show!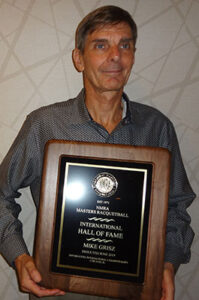 Mike Grisz of Alexandria, Virginia (previously Dallas, Texas). Mike is a longtime NMRA player and joined the Board of Directors in 2016. Mike met his wife, Karen, at an NMRA event a few years ago and Karen did a great job of introducing Mike to the crowd with slides of his long racquetball career. They both run the NMRA tournament desk and help the President run the organization. The slideshow video is on YouTube.
In addition to the recent inductees that night, we posthumously inducted another player formally. Phil Dziuk from Champaign, Illinois, had been voted into the Hall of Fame a few years ago and we waited for John O'Donnell (Hall of Fame member and also from Champaign, Illinois) to tell us all about Phil from the old days of the NMRA. All told, it was a very inspiring night for racquetball Hall of Fame dreamers everywhere. Phil is pictured, far right below, with his family.