Taddonio & Alatorre-Martin honored in St. Louis
Update ! At the 2021 National Championship, both Hall of Famers were recognized at the banquet with these individual presentations: Alatorre-Martin | Taddonio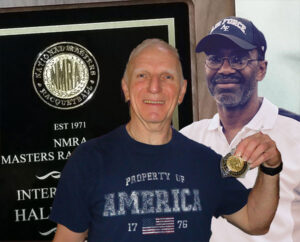 Hard at work despite the pandemic, the NMRA Hall of Fame Committee and Board of Directors selected a pair of tour veterans for formal HOF induction in 2020. Upon thorough review of their records, Curtis Alatorre-Martin and Frank Taddonio were unanimously approved for recognition, in the contributor and athlete categories, respectively. The only thing missing in the process had been a live tournament event at which to formally bestow the honors!
Hall of Fame inductions are normally conducted at the July International Championships, but these two outstanding competitors will scheduled to be recognized at the earliest opportunity, once tournament play is safely resumed in 2021. At the St. Louis National Championship, full video presentations were shown at the Banquet, featuring details of their backgrounds, giving, personal histories and competitive careers (linked above).
Join us in congratulating Frank Taddonio & Curtis Alatorre-Martin [L-R above] with a hearty nod and virtual high-five. Well done!