December 6-8, 2019 | Lilburn, Georgia
NMRA Doubles Championships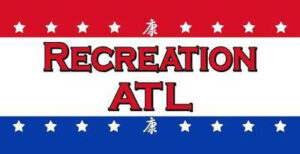 RECREATION ATL is one of the leading racquetball facilities in the southeast region, with a total of seven courts, featuring two glass-back courts with a huge spectator area to enjoy while socializing, plus five more courts with a balcony overlook. All are constructed with bright white concrete walls, great looking fresh wood flooring and bright LED lighting.  To relax between matches, players can enjoy a steam room, sauna, spa, and seasonal swimming pool. The great location, all-round-robin format, and tight court schedule force us to cap entries at 100 … BUT, we routinely offer a waiting list to manage late injuries or last-minute conflicts. As always, we do our best to  accommodate everyone, but the best way to guarantee your spot is to enter before the cap is reached. If you do get in by the November 21 deadline, you'll get food and fun all week, our famous banquet & slideshow plus a great tournament shirt to show off at home.
ENTER online / Download an Entry | Info sheet | Flyer | Things to do in Atlanta
---