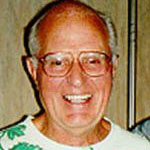 Sad News | Gene Grapes, NMRA Charter Member Passes, 09/07/12, in Irwin, Pennsylvania. This pivotal figure in the sport's history was an early supporter of racquetball, who was later inducted into 1982 USAR Hall of Fame as an amateur athlete/contributor and into the 1996 NMRA Hall of Fame as a founding contributor.
Prior to the formation of the International Racquetball Association [IRA], he helped organize and played primarily in Pennsylvania State YMCA sponsored tournaments. He was elected to the board of directors of the IRA in 1975 and served as executive vice president during his tenure on the board. He held five national doubles and national singles titles, in addition to national singles and doubles invitational titles. Gene overwhelmingly dominated his age group for nearly 10 years.
The birth of the NMRA began at an IRA sponsored tournament in Salt Lake City, Utah, in 1971, where Sam Caiazza dreamed up the idea of hosting a national invitational round-robin tournament on two courts at the New Castle, Pennsylvania, YMCA. Gene Grapes was also was a member of that club and acted as a co-host with Sam.
With the help of many local enthusiasts, Sam invited 10 key players who were 40 years of age or older to participate in a singles round-robin tournament in November 1971. Those participating in this first tournament included: Dr. Bill Sellers, Dr. Ray DuPue, Dr. Hal Price, Dr. Bud Muelheisen, Earl Dixon, Joe Zelson, Gene Grapes, Chet Howard, Sam Caiazza, and Ivan Bruner.
Gene passed away September 7, 2012 surrounded by his family in his home in Pennsylvania.  He is missed by all who had the honor of knowing him.