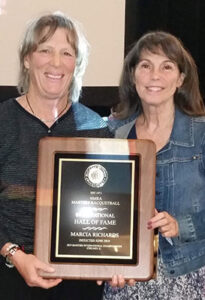 Long-time NMRA player Marcia Richards was formally inducted into the NMRA Hall of Fame at our tournament banquet in Atlanta. It was a rather chilly December evening, but we had a great banquet at the Sonesta Hotel in Duluth/Lilburn.
With 40 total NMRA medals and many more for USAR and WSMRA competitions, Marcia is a true champion. Everyone loved hearing her stories of the old days and seeing slides of her as a young competitor.
In addition to playing racquetball, as a Physical Education teacher and coach, Marcia has also taught hundreds of high school and elementary kids how to play over the years. A few years ago, Marcia got a knee replacement and felt like a new person, wishing she had done it sooner so she could play her best racquetball all along.
In her home town of Denver, she serves on the Colorado Racquetball Association board, runs tournaments, and was among the founders of Racquet for the Cure, a huge, long-running charity tournament to benefit breast cancer research.